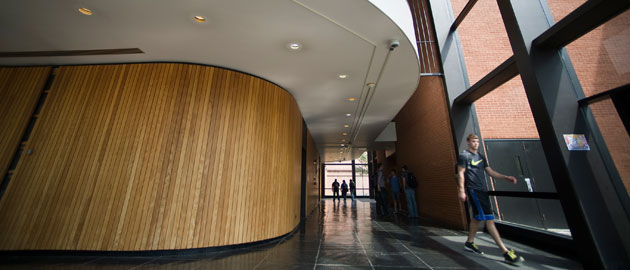 Internships
All internships are offered by the Zoology Department.
Biological Sciences majors are eligible for the following internships:
Editorial Assistant Internship
Interns will perform background research, write, and assemble newsletter articles describing the scholarly accomplishments of Zoology faculty, staff, and students. Students will sharpen their writing skills, become familiar with digital document design, and learn about the research of selected faculty members. Prerequisite: junior or senior standing in Zoology or Biological Sciences. Supervisor: Dr. Carey Krajewski (Chair of Zoology).
Teaching Aquarium Internship
Live specimens used in ZOOL 220 Animal Diversity laboratories are maintained in saltwater and freshwater aquaria. Management of these aquaria is an exercise in applied ecosystem ecology and animal husbandry, skills relevant to aquatic conservation and the aquarium industry. Prerequisite: ZOOL 220 with grade of B or better. Supervisor: Anthony Roberts (Zoology Facilities Manager).
Undergraduate Teaching Internship
Student interns function as assistant laboratory instructors in ZOOL 118 Principles of Animal Biology. Interns are paired with a graduate teaching assistant for one 2-hour laboratory section each week. Pre-semester training and periodic assessments by the ZOOL 118 staff are required. This is an excellent opportunity for students interested in science education, including those who will hold teaching assistantships in graduate school. Prerequisite: senior standing in Zoology or Biological Sciences; cumulative GPA of 3.4 or above. Supervisor: Rachel Shurtz (Zoology Laboratory Manager).
Website Technician Internship
Interns will learn basic skills in website organization and maintenance, including care and update of CMS-based websites. Regular activities will focus on the Zoology Department website, with opportunities to participate in the design and construction of new pages. Prerequisite: none required, but familiarity with basic HTML, any web content management software, and/or PHP scripting would be advantageos. Supervisor: Dr. Kamal Ibrahim (Zoology Webmaster).
To apply:
Students should send a cover letter describing their interest and an up-to-date CV/resumé with contact information for three SIU references (one of whom must be their faculty mentor) to the internship supervisor. Closing date for applications is 16 November 2012 (earlier applications are encouraged). Supervisors will interview each applicant and select interns by 7 December 2012.